In addition to the calculation and display of the time response, TINA calculates the coefficients of the Fourier series and the harmonic distortion of periodic signals using the Fast-Fourier Transform. The Fourier series is presented both in exponential and trigonometric form. You can set the sampling start time, the number of samples, and the number of harmonics. Using TINA's supplementary hardware, you can actually measure the harmonic distortion and the amplitudes of Fourier coefficients in a real circuit.
Fourier Spectrum
Once the time response of a circuit is obtained, the continuous spectrum of non-periodic signals can also be calculated using Fourier analysis. The spectrum is displayed in a dual panel diagram either as amplitude and phase or as the amplitude of cosinusoidal and sinusoidal components. You can define the number of FFT sampling points, the start and end times of the sampling, and the maximum and minimum frequencies to be displayed.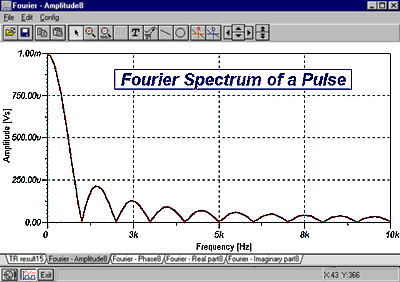 ---
DesignWare, Inc., 35 Pleasant St., Suite 3C, Meriden, CT 06450-7596
Tel: (1) 203 630 7069 Fax: (1) 203 630 2818 Email: info@designwareinc.com
Latest revision: 02/02/2017.