3D diagrams? No Problem!
With 3D EyeWitness you can automatically create any 3D view directly from your 2D diagram!
You can easily make 3D pictures (BMP, JPEG, DXF), films (AVI), panorama films (MOV) of scene documentation prepared in 2D by using 3D. 3D picture can be paintings (BMP,JPG) or line-drawings (DXF or specially formatted LDR). Line-drawings can be sent to 2D editor with an icon, so texts, comments, dimension lines can be put in it as you do in 2D drawing during documentation.
An accident reconstruction diagram with Digital Camera image inserted into the diagram.
Automatically Prepare a Scene Inventory
Keeping track of evidence is easy with the Scene Inventory module, which automatically catalogs everything you have incorporated in the scene. Work in the Scene Inventory spreadsheet to edit evidence tags and add remarks where necessary. Export in various file formats for easy manipulation in your favorite spreadsheet, DTP or database applications.
Over 1000 Pre-drawn 3D Symbols
24 comprehensive libraries of pick-and-place 3D symbols are included in 3DEyeWitness. Special crime, fire protection, gun and traffic libraries make scene reconstruction a snap. Symbols are fully resizable to meet all needs
ROADCAD feature allows you to quickly draw streets and intersections.
Simply specify the lanes and other optional information, then apply this data to any line, arc, or curve to create a street. ROADCAD feature includes pre-drawn templates of streets and intersections too. You can modify the pre-drawn streets and intersections or use the ROADCAD feature to draw your own. You can create maps up to date - just open the existing file with the diagram, make the changes and print a new copy!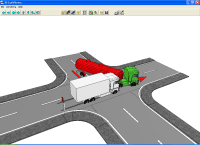 For the documentation of an accident scene you will usually use the ACCIDENT, CARS, FIRE-CARS, AIRPLANE, MACHINES and TRAFFIC libraries.
An accident reconstruction diagram with Digital Camera image inserted into the diagram.
Quickly Dimension Entire Scene
3D EyeWitness dimension tool automatically calculates distances at any angle or length.
Free DEMO !
DesignWare accepts credit cards, checks, and even departmental purchase orders. Simply fill out and return the order form.
Don't delay, order 3DEyeWitness today. You'll get 2D and 3D power, more than 1000 3D symbols, plus 3D MovieMaker, animation and Scene Inventory modules.
Free DEMO and TUTORIAL!
Order CD version
Order DOWNLOAD version!

System requirements

Recommended:

Operating System
Windows 7/8/10
Processor
Minimum: Pentium 500
Pentium or better recommended.
RAM
Minimum: 1 GB
2 GB
Video display
Minimum: Super VGA at 800x600 or higher

OpenGL graphic card or

DirectX 9

CD Rom
4x or higher